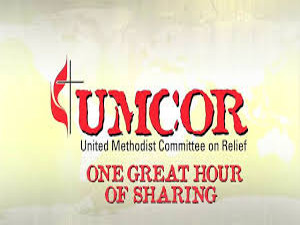 What is One Great Hour of Sharing?
One Great Hour of Sharing is one of six churchwide Special Sundays with offerings of The United Methodist Church. One Great Hour of Sharing calls United Methodists to share the goodness of life with those who hurt. Your gifts to One Great Hour of Sharing lay the foundation for the United Methodist Committee on Relief (UMCOR) to share God's love with communities everywhere. The special offering underwrites UMCOR's "costs of doing business." This helps UMCOR to keep the promise that 100 percent of any gift to a specific UMCOR project will go toward that project, not administrative costs.
Because operating costs are kept to under 10% of the total budget, undesignated gifts may actually exceed UMCOR's administrative needs. When that happens, your support is channeled to under-funded programs, where they're most needed. They also may be used to allow UMCOR to respond to disasters immediately after an event and before funds can be raised.
For more information, please see the UMCOR web site: https://www.umcor.org/UMCOR/Programs/One-Great-Hour-of-Sharing.